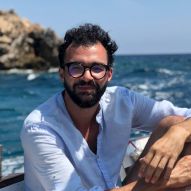 Born in an artist family, Andrei Petru Jecza is the son of the sculptor Peter Jecza. He studied at a German high school in his hometown, Nikolaus Lenau, before earning two separate degrees in Video Art, Photography and History of Fine Art at the West University of Timisoara. He later completed with merit a Masters in Art Business at Sotheby's Institute of Art in London. Currently he runs his own commercial gallery and became more recently the executive director of the Jecza Museum. Andrei Jecza is committed to promote and represent mainly Romanian artists who pioneered experimental art froms in the early 1960s and 70s, being also concerned with cutting edge contemporary artists. Through international connections and partnerships, he developed the reputation of the artists he represents, succeeding in placing them in international well-known collections, like the MUMOK Museum of Contemporary Art in Vienna, MOCAK Museum of Contemporary Art in Krakow, Ritter Collection in Germany or Tate Modern in London.
Andrei Jecza is also dedicated to The Source Workshop and epretext. Two separate companies dedicated to "bring art and design to the people". The Source Workshop became the first traditional art edition publishing house in Romania, based in Timisoara. The Source Workshop collaborates with well-known Romanian artists, like Marius Bercea, Serban Savu, Mi Kafchin, Gili Mocanu, Constantin Flondor and many more, in order to make their art affordable for the Romanian art lovers.
His main activity is dedicated to Jecza Gallery, which is trying to become the platform for contemporary art in West Romania. Jecza Gallery is also a partner of the Art Encounters Biennale, which became the most visited and successful art biennale in Romania. Andrei Jecza's long term goal is to bring Romanian contemporary art to international acknowledgment.