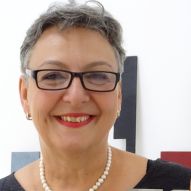 Graduate of the Faculty of Philology of the University of Timisoara (1979), Doctor in visual arts (since 2006). European Studies in the field of cultural management. Scientific researcher at the Romanian Academy, Timişoara Branch (1990-2015). Founding member, executive director (2000-2010) and president of the Triade Foundation, Timisoara (2010-2020). Co-founder of the Art Encounters Foundation, co-organizer of the Art Encounters Contemporary Art Biennale (2015, 2017, 2019). Member of Timisoara 2021 ECoC team (2012-2015).
Sorina Jecza is involved in numerous art projects. She has a relevant experience as initiator and coordinator of cultural events, such as the Triade Sculpture Park in Timisoara, the recovery of the Timisoara avant-garde movement, the restoration of the artistic talents of the 1960-89, through exhibitions and an editorial program that has published over 200 albums, art books and catalogues. Organizing over 200 exhibitions – either in its own exhibition space or in partnership with the main art museums in Romania (Timisoara, Cluj, Craiova, Oradea, MNAC Bucharest, Palatele Brâncovenești Mogosoaia), or similar institutions abroad, like Passarelle – Centre d'Art Contemporaine Brest, Atelier Grognard – Rueil Malmaison / France, ZKM Karlsruhe, Central Museum of the Danube Swords – Ulm, Ritter Museum / Germany, MUMOK – Vienna, MAK -Vienna / Austria, Museum of Modern Art – Warsaw / Poland, Garage Museum -Moscow / Russia, Sao Paolo Museum / Brasilia, Novi-Sad / Serbia, Fondazione  Gervasuti Venice / Italy etc.
Supporter of a program to promote emerging art, focused on education. Active role in presenting Romanian art abroad.
She has published, as author or co-author, works of literary and art criticism.
She continues to be dedicated to the legacy of the sculptor Peter Jecza, through the Jecza Museum that she initiated with her son in Timisoara.